HYDE project
Scientists from various disciplines worldwide nowadays poole their knowledge of past land use — and pushed back the date when human farming and other practices began altering the planet. This is important since land use (change) has been (and still is) a significant factor to (past) climate change – and a possible tool to mitigate future climate change as well.
Currently, a heavily debated hypothesis about past changes in human history is the one formulated by Bill Ruddiman, a marine biologist. "His hypothesis is arguing that the significant footprint of human add-on to climate began thousands of years ago and not just 150 years or so, which is the conventional view." Think of permanent agriculture, livestock herding, mining and largescale conversion (deforestation) of natural ecosystems. So, it really changes how we perceive the timing of human impact on the global climate system.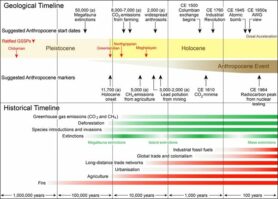 Therefore, my work focuses on historical land-use reconstructions (HYDE) covering the whole Holocene which can be freely used by modelers and teachers, to better understand the underlying processes and consequences of land changes, so that we can make better policy decisions for a sustainable future.
The original work on HYDE began in the 90s of the 20th century at the environmental department (Milieu Toekomst Verkenningen) of the National Institute of Public Health and the Environment (RIVM) in Bilthoven, The Netherlands. MTV became independent under the name Milieu en Natuur Planbureau (MNP) and after a merger with the Spatial Planning Agency (Ruimtelijk Planbureau, RPB) it became the PBL Netherlands Environmental Assessment Agency in 2008. For many years they supported the further development of this data base, which was (and still is) used as important input for their Integrated Assessment Modelling Framework (IMAGE). From 2014 onwards cooperation with UU resulted in further development of  HYDE and since 2020 it is fully an solely supported by UU.
The current HYDE version 3.2 is an updated and internally consistent combination of historical population estimates and also an implementation of improved allocation algorithms with time-dependent weighting maps for cropland and grassland, while the period covered is 10,000 BCE to 2015 CE. Continuous updating and elaboration of historical and archaeological sources are in full progress. Version 3.2 has now included a distinction of grazing land into pasture, natural rangeland, and converted rangeland, as well irrigated areas and rice.
For HYDE 3.3 we have integrated new empirical data from different disciplines such as Archaeology (radiocarbon data for onset of agriculture for Eurasia), History and Geography in order to improve the current HYDE version. The 3.3 version paper is curently in prep.
For more information about the different HYDE versions see Publications
For more information about the HYDE datasets see Datasets